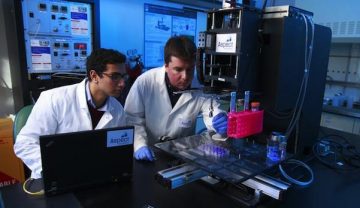 Tearing your meniscus, the "shock absorber" of your knee, is one of the most common knee injuries, and incidence could rise with an aging population. Surgical treatment of a torn meniscus may involve partial or complete removal which is associated with increased incidence of osteoarthritis. DePuy Synthes Products, Inc. has formed a collaboration with Aspect Biosystems to develop a prototype artificial meniscus using Aspect's proprietary Lab-ona-Printer™ 3D printing technology that could benefit patients post-surgery.
"We are very excited to work with a global healthcare leader like DePuy Synthes" said Tamer Mohamed, President and CEO of Aspect Biosystems. "This collaboration marks a significant step for Aspect to apply our 3D bioprinting platform technology in developing groundbreaking tissue replacement therapies that hold the real potential to improve quality of life for patients."
Find out more about About Aspect Biosystems Ltd.
image: Tamer Mohamed with Konrad Walus at Aspect Biosystems