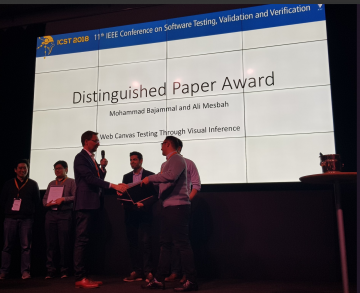 ECE PhD student Mohammad Bajammal and his advisor Ali Mesbah won a Distinguished Paper Award at the 11th IEEE International Conference on Software Testing, Validation and Verification (ICST 2018).
Their research paper titled Web Canvas Testing through Visual Inference was selected by the ICST committee as one of the top three papers among the 30 papers accepted this year for publication from a total of 119 submissions. The paper made advancements that enable software engineers to automatically analyze and test graphics-intensive web apps, such as medical, geographical, and educational apps, through visual analysis, a task that could not be effectively accomplished before.
ICST is the premier annual international conference on software testing and provides "a common forum for researchers, scientists, engineers and practitioners throughout the world to present their latest research findings, ideas, developments and applications in the area of Software Testing, Verification and Validation." The conference took place in Västerås, Sweden from April 9 to April 13 this year.