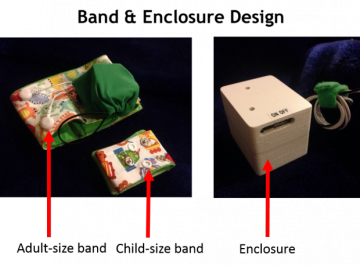 Capstone Project: Smartphone-Based Electromyography System for Screening Restless Leg Syndrome in Children
Clients: Dr. Osman Ipsiroglu, Pediatrician and Clinical Associate Professor and Mr. Graham McAllister, Clincial Research Trainee, Sunny Hill Health Center for Children, BC Children's Hospital
Student Team: Brittaney Geisler, Tyler MacDonald, Caleb Ng, Tina Saad
Professor: Cristian Grecu
Imagine you couldn't resist twitching, rubbing or flexing your legs. Lots of people don't have to imagine this feeling, it happens to them often, especially if they really want to fall asleep. Restless Legs Syndrome is a very common neuromuscular disorder characterized by an overwhelming urge to move your legs, particularly when a person is tired. For some people, Restless Legs Syndrome can severely disrupt their sleep. The condition can be missed or misdiagnosed because many of the diagnostic tools are subjective (such as surveys or patient's anecdotal reports). Misd
iagnosis is even more common in children and can lead to over-prescription of medication.
The goal of this capstone project is to create a simple, inexpensive, user-friendly, and wireless electomyography system that can provide clinicians with objective information during clinical assessments of Restless Legs Syndrome. Electromyography (EMG), the measurement of electrical activity in the muscle, helps clinicians monitor a patient's leg movements and screen for Restless Legs Syndrome. On the right is a EMG recording of the electrical activity in a muscle as it contracts, relaxes and contracts again.
The students' smart-phone based prototype includes both a hardware and software component that communicate wirelessly by Bluetooth. The hardware features a band that wraps around a patient's leg and collects EMG. The signal is then wirelessly transmitted to circuitry based on the Bitalino development board. The Android software displays the signal graphically on the screen. The app can also store, export, and further analyze the signal.
With the guidance of the client, the students ran a clinical trial of the prototype on 18 volunteers (4 children and 14 adults) with an EMG specialist on-hand for feedback. Results showed that the prototype is able to detect muscle tension not visible to the eye. The clinical trial provided  feedback on the functionality of the prototype during a typical use case and also user acceptance and interaction with the prototype.
The students were motivated to work on a project that would have real benefit for patients and helped ensure this by letting the children's response to their prototype drive their design. "Children were very curious about our prototype. This helped us refine the design. We noticed children enjoyed the blinking light on the circuitry and so we decided to design our housing using child-friendly fabric to make the device more appealing. Also, we chose reusable conductive strips rather than standard gel electrodes in our design to decrease costs spent on electrodes, but also to increase comfort level for patients who might be sensitive or uneasy to having things attached to them." Tina Saad.
Dr. Ipsiroglu recently presented this work at a conference in Korea and the students will be travelling to professional conferences in Seattle and Victoria this summer to discuss their findings with members of the medical community.

[Front row] Caleb Ng, Tina Saad, Graham McAllister, Brittaney Geisler
[Back row] Iain Boyle, Tyler MacDonald, Dr. Osman Ipsiroglu
Find out more: