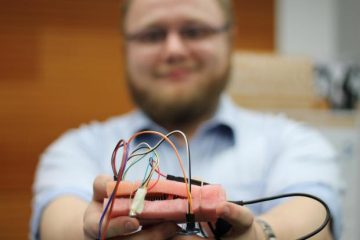 On April 7th, 2017, senior ECE students congregated on the first two floors of the Fred Kaiser Building to present the capstone projects that they had been working on all year. Partners from many different facets of industry were represented, from EPSON Electronics to Science World to UBC's innovative Laptop Orchestra.
In the capstone course, teams of 4 or 6 senior students work on projects proposed by industry or other organizations. Our capstone clients engage with the next class of graduates to facilitate recruitment and networking, explore research/development opportunities utilizing the expertise of UBC faculty, staff and students, develop products or services that are outside of their organization's current business plan and, network with the UBC academic community.
At the end of the day, ECE Department Head Dr. André Ivanov thanked all participants and announced the winners of the capstone student video contest.
This year's winning student teams are as follows:
FIRST PRIZE: Group 46 (Nathan Chiu, Tim Choy, Ben Hughes, Daniel Sallaway, & Shangyun Wang)
SECOND PRIZE: Group 20 (Derek Chan, Andrew Chen, David Henderson, David Kuo, & Mason Pimentel)
THIRD PRIZE: Group 71 (Charles Clayton, Brad MacNeil, Jeevan Samra, Jiatong Shi, & Leo Yuan)
HONOURABLE MENTIONS: Group 79 (Emmanuel Augustine, Vanessa Chu, Jack Huang, Robin Xie, & Jiaming Yu) and Group 16 (Tanner Moss, Harim Park, Nolan Ramsden, Jeff Seo, & Adam Wong)
Congratulations to all!