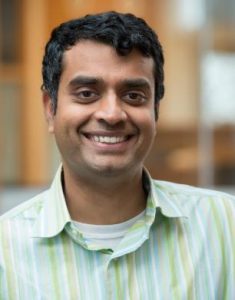 On March 6th, 2017, Electrical and Computer Engineering Associate Professor Dr. Sathish Gopalakrishnan was awarded the Margaret Fulton Award. This award recognizes outstanding individuals who make exceptional contributions to the student experience at UBC, Vancouver, in honour of Margaret Fulton's devotion to education access and student development. Fulton was UBC's Dean of Women and University President of Mount Saint Vincent University.
Dr. Gopalakrishnan has exemplified that same dedication to continuously pursuing the improvement of UBC's undergraduate and graduate programs during his time at UBC. He researches the design, modeling, and analysis of computing systems, teaches at both undergraduate and graduate levels, chairs the Vancouver Chapter of the IEEE Computer Society, is the Regional Coordinator for IEEE Regions 6 and 7 on the Computer Society's Geographic Unit Operations Committee, and manages the web presence of the IEEE Technical Committee on Real-Time Systems.
Congratulations, Dr. Gopalakrishnan!