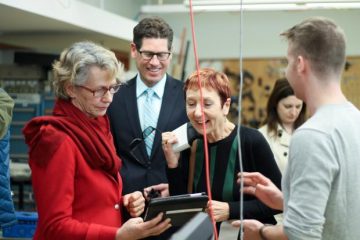 This generous support comes in the form of the John R. Evans Leaders Fund (JELF), announced today at a UBC ceremony attended by Liberal MP Joyce Murray. Electrical & Computer Engineering department head Dr. Andre Ivanov opened the ceremony by thanking CFI for this "important federal support towards research across Canada, and particularly here at UBC". Murray, who has been a Member of Parliament for Vancouver Quadra since 2008 and served as Parliamentary Secretary of the Treasury Board since 2015, has family ties to UBC: her mother attended UBC as a female architecture student "in a time when women didn't do that". Today, she emphasized the importance of this funding for the university in her address to the crowd.
"UBC has developed such an excellent reputation, both in BC and around the world," Murray said. "The John R. Evans Leaders Fund helps universities attract and retain top-calibre talent by funding infrastructure needs".
"We're competing on a global scale these days," explained UBC Vice President, Research, Dr. Helen Burt. "CFI JELFs allow us to make strategic investments in some of the superstars at UBC".
Evidently, Salcudean is one such superstar. He is C.A. Laszlo Chair of Biomedical Engineering and a Tier 1 Canada Research Chair. With UBC colleagues Dr. Robert Rohling and Dr. Purang Abolmaesumi, as well as collaborators at hospitals in Vancouver and the BC Cancer Agency, he is working to leverage quantitative imaging for disease diagnosis and therapy, as well as robotic-assisted surgery. The new CFI-funded infrastructure that they will use will consist of ultrasound machines (which Salcudean says are "the most modern equipment that one can buy"), a supercomputer capable of processing data about 30 times faster than is possible today, and tissue processing equipment that will be able to perform biopsies and automatically analyze specimens.
"This is great news for us," said Salcudean. "The ultrasound field is undergoing a tremendous revolution. We expect ultrasound – just like computing – to be ubiquitous, and to replace a lot of the more dangerous ways of imaging patients, such as x-rays". Detection and treatment of common conditions such as prostate cancer, breast cancer, and chronic liver disease could be revolutionized as a result of this paradigm shift. He wants to make ultrasound technology much easier to use, and he hopes to see it in every specialist and family doctor's office in the near future.
"Our research goal is to make medical ultrasound more quantitative," Salcudean explained, "so in addition to the nice image on the screen, you'll have a set of numbers, improving the way we can screen, diagnose, and treat disease".
Many students will benefit from this new infrastructure, and so will many alumni: about $500,000 worth of CFI-funded equipment will be purchased from local companies where many UBC-trained engineers work.
Following the ceremony, Dr. Salcudean and his team led Murray on a tour of their lab, where she was able to get a firsthand look at some of the imaging technology currently being developed there.
"I'm pleased to be part of a government that's acting on our conviction that good scientific knowledge should inform decision-making," concluded Murray. "Science is more important than ever to the prosperity, health, environment, and quality of life in Canada and elsewhere.