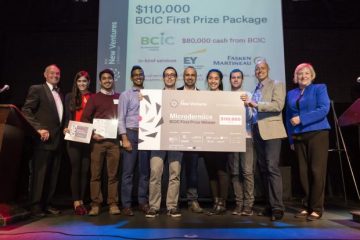 This year's top prize at the BCIC New Ventures Competition was awarded to Microdermics, a painless alternative to deliver vaccinations and therapeutics and monitor drugs in the bloodstream. Microdermics' proprietary, hollow metal microneedle injection system both eliminates the need for hypodermic needles, and improves the patient experience.
The BCIC-New Ventures Competition is the largest and longest-running tech competition in British Columbia, offering over $300,000 in cash and prizes to early-stage ventures.
Find out more about this year's competition at New Ventures BC.