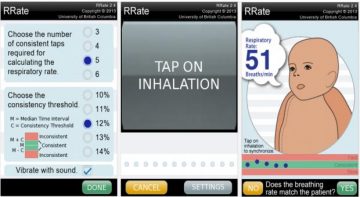 Respiration rate is an important diagnostic tool in many serious diseases such as pneumonia. The current, recommended method for measuring respiratory rate is counting breaths for one minute. This method is not efficient in a busy clinical setting. Researchers from UBC's Electrical and Computer Engineering in Medicine Lab have developed a robust, low-cost method that can help front-line healthcare workers measure respiration rate much more quickly. RRate, the mobile application the research team developed, is so promising the Canadian Wireless Telecommunications Association has selected it as a recipient of a 2015 Connected to the Community Award.
Using the mobile application, a healthcare worker measures respiration rate by tapping the screen each time a patient inhales. The application improves the accuracy of the measurement by removing inconsistent taps from the calculation. Once a consistent respiration rate is set a sound is played and a second screen presents an animated baby, breathing at the frequency of the calculated respiration rate. The healthcare worker can confirm the respiration rate by comparing the breathing movement of the patient with the animation.  Using the application, an accurate respiration rate can be calculated in approximately 10 seconds. The 6-fold increase in efficiency combined with a clinically acceptable error makes this an attractive solution. Clinical trials are being conducted by the Malaria Consortium in Uganda and Cambodia. RRate is available for free on Google Play and iTunes.
The Canadian Wireless Telecommunication Association presented a second award to LionsGate Medical Technologies, a spinoff company of the research team, acknowledging the company's work developing the Kenek O2. This medical device enables people to monitor their blood oxygen level and heart rate through their smartphone and other mobile devices. The Kenek O2 was recently approved by Health Canada.
The Connected to the Community Awards are an opportunity for the Canadian Wireless Telecommunications Association to pay tribute to outstanding organizations in recognition of their partnerships with Canada's wireless industry. The awards program promotes and celebrates the use of wireless technologies in improving the lives of Canadians. The program has focused on numerous partnerships with community projects – ranging from organ transplants to emergency access programs – as well as educational and R&D initiatives ranging from mentoring programs to major funding for ground-breaking research by some of Canada's top researchers.
Find out more:
Improving the Accuracy and Efficiency of Respiratory Rate Measurements in Children Using Mobile Devices, Walter Karlen, Heng Gan, Michelle Chiu, Dustin Dunsmuir, Guohai Zhou, Guy A. Dumont,  J. Mark Ansermino