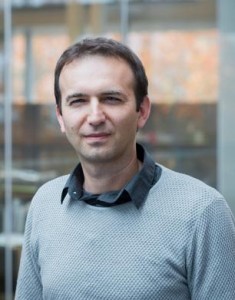 Professor
BSc, MSc and PhD (TU Delft, Netherlands)
Office: KAIS 4044
Phone: (604) 827-4249
Email: amesbah@ece.ubc.ca
Ali Mesbah received his BSc/MSc (2003) and PhD (2009) degree cum laude in Computer Science from Delft University of Technology. After a year of postdoctoral period with the Software Engineering Research Group at Delft and a Visiting Researcher position at Fujitsu Laboratories of America, he joined UBC in 2011, where he is currently an Associate Professor of Software Engineering in the Department of Electrical and Computer Engineering. During 2017-2018, he was a Visiting Research Scientist at Google.
Dr. Mesbah's main area of research is software engineering, with an emphasis on software analysis and testing, software maintenance and evolution, fault localization and automated repair, and program comprehension.
Dr. Mesbah is the recipient of the Killam Faculty Research Prize at UBC. He currently serves as an Associate Editor of the IEEE Transactions on Software Engineering. He is the recipient of two ACM SIGSOFT Distinguished Paper Awards at the ACM/IEEE International Conference on Software Engineering (ICSE 2009 and ICSE 2014), a Distinguished Paper Award at the IEEE International Conference on Software Testing, Verification and Validation (ICST 2018), a Best Paper Award at the ACM/IEEE International Symposium on Empirical Software Engineering and Measurement (ESEM 2015), a Best Paper Award at the International Conference on Web Engineering (ICWE 2013), and an NSERC Discovery Accelerator (DAS) Award (2016).
---
Research Interests
Software engineering, Software testing and dynamic analysis, Software evolution and maintenance.
---
Research Area
---
Research Groups
---
Teaching
CPEN 321 – Software Engineering
CPEN 422 – Software Testing and Analysis
CPEN 522 – Software Verification and Testing
EECE 511B – Software Testing and Maintenance
EECE 571S – Advanced Topics in Software Engineering
Electrical Engineering Seminar and Special Problems – NONLNR SYS&CTRL
Verification of Software-Intensive Systems
Methods of Empirical Software Engineering Research
---