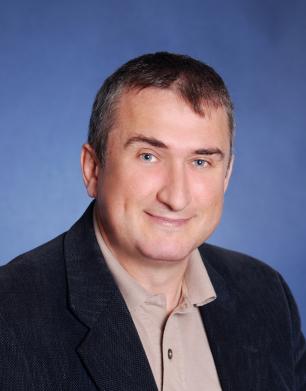 Associate Professor
MASc (Romania), PhD (TU Delft)
Office: KAIS 3063
Phone: (604) 827-4115
Fax: (604) 822-5949
Email: edmondc@ece.ubc.ca
Edmond Cretu is an Associate Professor in the Electrical and Computer Engineering Department at UBC. He started as an Assistant Professor in 2006 and transitioned to his new role as an Associate Professor in 2012. His scope surrounds the topics of microsystems, adaptive MEMS, micro-instrumentation, nonlinear signal processing, BioMEMS and ultrasound imaging.
---
Research Interests
MEMS/microsystems (adaptive microsystems, unified modeling and simulation of multi-domain systems) structured design methodologies;
(Micro-)Instrumentation systems, sensors and actuators, adaptive MEMS/NEMS
Bio-medical applications of microstructures;
Modern methodologies in nonlinear signal processing and analysis of complex systems;
Fractal/constructal theory and chaotic systems.
---
Research Areas
---
Research Groups
---
Teaching
EECE 201 – Project Integrated Program I (PIP I)
ELEC 221 – Signals and Systems
EECE 300 – Molecules to Mechanisms
ELEC 301 – Electronic Circuits II
EECE 301 – Topics in Nanotechnology and Microsystems
ELEC 341 – Systems and Control
EECE 356 – Advanced Electronic Circuits
ELEC 361 – Molecules to Mechanisms
EECE 369 – Signals and Systems
ELEC 462 – Sensors and Actuators in Microsystems
ELEC 465 – Microsystems Design
EECE 489 – Microsystems Design
CPEN 491 – Computer Engineering Capstone Design Project
ELEC 492 – Electrical Energy Systems Capstone Design Project
CPEN 492 – Software Engineering Capstone Design Project
ELEC 493 – Nanotechnology and Microsystems Capstone Design Project
ELEC 494 – Biomedical Engineering Capstone Design Project
EECE 509 – Advanced Microsystems Design
ELEC 544 – Advanced Microsystems Design
---