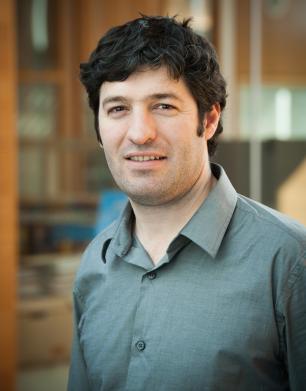 Professor; Canada Research Chair in Power Converters For Renewable Energy Systems; Fred Kaiser Professorship holder
Ing (UTN-FRC, Argentina), MEng and PhD (Memorial University of Newfoundland, Canada), PEng
Office: KAIS 3044
Phone: (604) 827-1423
Email: mordonez@ece.ubc.ca
Dr. Martin Ordonez is a Professor and Canada Research Chair at the University of British Columbia (UBC), Vancouver, BC, Canada. He is dedicated to exploring new possibilities in the field of power conversion and crafting strategies to achieve them. As the Canada Research Chair in Power Converters for Renewable Energy Systems, he helps maximize the use of renewable energy resources by developing methods and power architectures to store and deploy renewable energy. His recent research achievements include the development of high-performance power conversion architectures, power electronic topologies, and advanced control schemes. He leads an active research program at UBC and collaborates with several partners in the power and renewable energy industry. He enjoys the challenges posed by this emerging field where, more often than not, obtaining successful solutions requires thinking outside the box.
As a supervisor/advisor, his objectives are to recognize the skills and develop the potential of his graduate students, but most of all, to help them achieve their professional goals. He is an energetic team builder who has a personal commitment to his students. His enthusiastic approach makes the educational and research process a rewarding experience. Visit Dr. Ordonez's website at www.martinordonez.com to learn about his research program.
Dr. Ordonez is a Professor with the Department of Electrical and Computer Engineering at UBC in Vancouver, Canada. He was an Adjunct Professor with Memorial University of Newfoundland and Simon Fraser University. He was born in Neuquen (Patagonia), Argentina, and received an Ing. degree in Electronics Engineering from the National Technological University (UTN-FRC), Cordoba, Argentina, in 2003. He holds a Master's and a Ph.D. degree in Electrical Engineering from Memorial University, Canada (2006 and 2009 respectively). Dr. Ordonez has contributed more than 90 publications and R&D reports to the field of power conversion. He is an Associate Editor for IEEE Transactions on Power Electronics, serves on several IEEE committees, and reviews widely for IEEE/IET journals and international conferences. He was awarded the David Dunsiger Award for excellence (2009) and the Birks Graduate Medal (2006), and was made a Fellow of the School of Graduate Studies (2009 and 2005), Memorial University. His industrial experience in Power Conversion includes research and development at Xantrex Technology Inc./Elgar Electronics Corp. (now AMETEK Programmable Power), Deep-Ing Power Electronics, and TRV Dispositivos, where he developed high-density dc-dc power converters, UPS inverters, and digital controllers using DSPs.
---
Research Interests
Power Converters for Renewable Energy Systems / Renewable power and energy systems, power electronics, power conversion architectures, and control systems.
---
Research Area
---
Research Group
---
Teaching
ELEC 451 – Power Electronics
ELEC 203 – Basic Circuit Analysis
EECE 550 – Topics in Power Electronic Design
EECE 571L – Fundamentals in Information Processing
EECE 571M – Machine Learning Fundamentals for Engineers
---