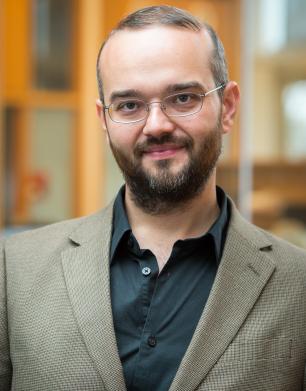 Associate Professor
SB, MEng and PhD (MIT, USA)
Office: KAIS 4050
Phone: 604 827-0738
Fax: (604) 822-5949
Email: mieszko@ece.ubc.ca
Mieszko Lis is an Associate Professor in the Department of Electrical and Computer Engineering at UBC. Prior to joining UBC, Mieszko received his SB, MEng, and a PhD from the Massachusetts Institute of Technology, where he focused on massive-scale multicore processors and various architectural techniques required to build them. Between his undergraduate and doctoral studies, Mieszko accumulated extensive industry experience as a co-founder of two start-up companies.
His research interests include multicore architecture, fine-grained parallelism and compilation techniques, high-level hardware design languages and methodologies, and the applications of computing techniques to the natural sciences. He is committed to raising the level of abstraction across the computing landscape — an interest he has also explored as co-designer of the high-level hardware design language Bluespec and developer of a high-level language for computational immunology studies.
---
Research Interests
Computer architecture. Parallel architectures, programming models, and compilers. High-level VLSI design methodologies.
---
Research Area
---
Research Groups
---
Teaching
CPEN 511 – Advanced Computer Architecture
CPEN 411 – Computer Architecture
---