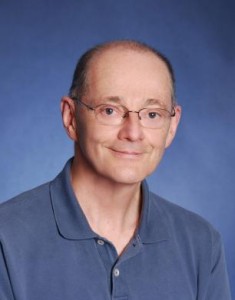 Professors Emeriti
B.A.Sc (Toronto), M.Sc (Saskatchewan), Ph.D. (Case Wastern Reserve), P.Eng.
Office: KAIS 3062
Email: peterl@ece.ubc.ca
Phone: (604) 822-5934 Fax: (604) 822-5949
Peter Lawrence received a Bachelors in Electrical Engineering at the University of Toronto in 1965, a Masters in Biomedical Engineering at the University of Saskatchewan in 1967 and a PhD in Computing and Information Science at Case Western Reserve University in 1970. Subsequently, he was a Guest Researcher in the Department of Applied Electronics of Chalmers University of Technology in Goteborg, Sweden (1970-72), and a Research Staff Member and Lecturer in the Department of Mechanical Engineering, Massachusetts Institute of Technology, Cambridge (1972-1974). He joined the University of British Columbia in 1974 and is now a Professor in the Department of Electrical & Computer Engineering.
Teaching
Research Interests
Improving the human interface to machines and computers.