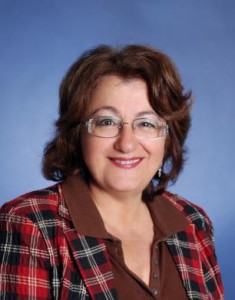 Professors Emeriti
Office: KAIS 4054
Email: rababw@ece.ubc.ca
Phone: (604) 822-4924
Fax: (604) 822-9428
Rabab K. Ward is a Professor Emeritus in the Electrical and Computer Engineering Department at UBC. Dr. Ward was the President of the IEEE Signal Processing Society (2016-2017) She has chaired and served on served IEEE committees and conferences She has also served on various Canadian and international boards and committees dealing with research policy, funding, planning and initiatives. She was with the Office of the Vice-President Research and International, developing initiatives and enhancing and coordinating research finding and scholarship in the natural sciences and engineering at UBC (2008- 2015). From 1996- 2007, she was the Director of the multidisciplinary Institute for Computing, Information and Cognitive Systems (She was the Principal Investigator of the $24.2 million CFI/BCKDF award that resulted in a new building at UBC that housed the most modern equipment in all areas related to human centered technologies.
Dr. Ward is Fellow of the Royal Society of Canada, the IEEE, the Canadian Academy of Engineers and the Engineering Institute of Canada. She has received British Columbia's top engineering professional award "The RA McLachlan Memorial Award", IEEE Signal Processing Society top award "The Society Award", the UBC Killam Research Prize, the Senior Killam Mentoring Award and various other leadership, service and research award
Dr. Ward's research interests are mainly in the areas of signal, image and video processing. She has made contributions in the areas of signal detection, image encoding, compression, recognition, restoration and enhancement, and their applications to cable TV, HDTV, medical images, infant cry signals and brain computer interfaces, She has published around 200 refereed journal papers, 350 refereed conference articles and holds nine patents ( six are related to cable television picture monitoring, measurement and noise reduction). Applications of her work have been transferred to U.S. and Canadian industries. She is the inventor of the non-intrusive measurement methods for cable TV video impairments (licensed to Hewlett-Packard) and co-inventor of a non-interfering video system for measuring size and biomass of fish in cages and Tanks (licensed to J.B Thompson and Associates).
Dr. Ward is a pioneering woman in engineering (e,g. she was the first woman to be appointed as professor in British Columbia. She has been a good will ambassador for raising the visibility of the importance of engineering to society as well as for women in the STEM fields. She has been featured on various television and radio programs and her work has been written about in various newspapers and popular magazines.
Teaching
Research Areas
Research Groups
Research Interests
Signal processing
Image processing