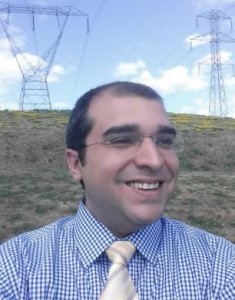 Adjunct Professor
BASc and MASc (Iran) PhD (UBC)
Email: sinach@ece.ubc.ca
Sina Chiniforoosh received his BASc and MASc degrees in Electrical Engineering, from Shiraz University and Sharif University of Technology, Iran. He received his PhD degree in Electrical and Computer Engineering (ECE) from the University of British Columbia (UBC), Vancouver, BC, Canada. Since 2012, he has been with BC Hydro, Vancouver, where he is currently a Specialist Engineer in the Integrated Planning Mandatory Reliability Standards team. Previously, he was a Senior System Planning Engineer, responsible for initiating major reinforcement projects and the long-range planning of the Metro Vancouver regional transmission system. He has stayed involved with UBC, as a Sessional Instructor, and later as an Adjunct Professor in the Department of Electrical and Computer Engineering.
Dr. Chiniforoosh is a registered Professional Engineer (P.Eng.) in the province of British Columbia, and an active senior member of the IEEE Power and Energy Society. He has been a contributing member of the IEEE Task Force on Dynamic Average Modeling, under the Working Group on Modeling and Analysis of System Transients Using Digital Programs. He has co-authored a book chapter and more than 30 technical papers published in peer-reviewed journals and conference proceedings. His research interests cover a range of topics in power systems, power electronics, electric machine drives, and renewable energy systems.
Outside of his professional life, Dr. Chiniforoosh has a keen interest in music and literature. He was the 2011 UBC Futsal League Champion along with his teammates in Academics Anonymous. He also enjoys travelling and exploring nature with his family.
Teaching
Winter 2023
ELEC352 Electric Energy Systems Sections
Overview of three-phase energy systems. High-voltage transmission, low-voltage distribution. Performance of renewable electricity generation. Grid integration of renewable energy systems.
Winter 2023
EECE555 Renewable and Efficient Electric Power Systems Sections
Credit will be granted for only one of EECE 555 or ELEC 352.
Research Interests
Power Systems
Power Electronics
Electric Machines and Drive Systems
Renewable Energy Systems
Smart Energy Grids.