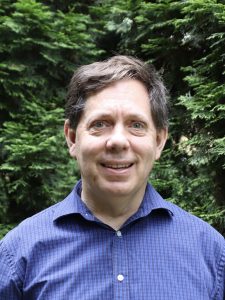 Professor
BASc (Victoria), MASc, PhD (Toronto)
Office: KAIS 4103
Phone: (604) 822-1263
Email: stevew@ece.ubc.ca
Steve Wilton is a Professor of Electrical and Computer Engineering at UBC. Dr. Wilton served as Head of the Department of ECE from 2019 to 2023, and re-appointed as Head of the Department starting in 2024. Dr. Wilton is part of the UBC SoC Research Group and a member of the Institute for Computing, Information, and Cognitive Systems (ICICS) and a Professional Engineer in the province of British Columbia.
Dr. Wilton's research is in the areas of Computer Architecture and VLSI design. Dr. Wilton is interested in architectures of next-generation Field-Programmable Gate Arrays and Computer-Aided Design algorithms that map circuits to these devices. A Field-Programmable Gate Array (FPGA) can be programmed to implement virtually any digital circuit. This programmability provides companies with the ability to implement large, complex circuits without requiring access to an expensive state-of-the-art chip manufacturing plant, an expense that is out-of-reach for most small and medium-sized electronics companies. The goal of Dr. Wilton's research is to improve FPGAs by enhancing both their internal structure (architecture) as well as the associated Computer-Aided Design algorithms. He is also interested in post-silicon debug and the application of programmable logic to System-on-a-Chip Design.
---
Research Interests
Field programmable gate array architectures and CAD tools.
---
Research Area
---
Research Group
---
Teaching
ELEC 402 – Introduction to VLSI Sytems
CPEN 311 – Digital Systems Design
CPEN 391 – Computer Systems Design Studio II
CPEN/ELEC 481 – Economic Analysis of Engineering Projects
CPEN 513 – CAD Algorithms for Integrated Circuits
---