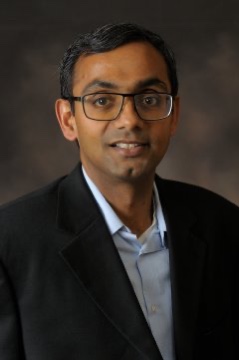 Dr. Karthik Pattabiraman, an associate professor of electrical and computer engineering at UBC won the Rising Star in Dependability Award. This is the first year this award is offered. It recognizes a researcher, from either acidemia or industry who has completed their PhD in the last 10 years. The award is presented to someone in the field of dependable and resilient computer systems and networks, who demonstrates the potential for creative ideas and innovative research.
The innovative research Dr. Pattabiraman believes won him this award is what he calls "Good Enough Dependability". He says it has been the "mainstay of my research programme at UBC for the last 10 years. Traditionally, in my area of dependable computing systems, the main focus has been on ultra-reliable systems such as banking, aerospace, healthcare etc. where cost was not the most important concern. In contrast, my research programme aims to apply the principles of constructing dependable systems to commodity systems such as desktop computers and mobile phones, where cost is a big factor. Therefore, we had to come up with new paradigms and tricks to adapt the traditional solutions to these systems."
Some of Dr. Pattabiraman's current research is focused on the "Internet of Things (IoT), in which computation is embedded into tiny devices all around us such as smart speakers, thermostats, automotive systems etc. and hence we need to provide low-cost dependability in these systems. The resource constraints of these devices make it very challenging to ensure they're dependable." A common element in his research is figuring out a way to provide dependable computing at a low cost and apply it to both large and small systems.
Karthik Pattabiraman feels he was selected for this award for early career achievements because he was able to "chase the big ideas and problems in my field thanks to the generous support from the NSERC and the many companies we collaborated with. I especially benefited from the collaborative atmosphere in the ECE department, and the strong support of my students and colleagues."
The award is presented at the DSN conference. The DSN conference is the most prestigious venue in the dependable computing area and it is celebrating the 50th anniversary this year. It is sponsored by The IEEE TC on Dependable Computing and Fault Tolerance (TCFT) and IFIP Working Group 10.4 on Dependable Computing and Fault Tolerance (WG 10.4). Karthik Pattabiraman received the William C Carter PhD Dissertation Award in Dependability in 2008. His PhD student, Bo Fang, who he co-supervised also won the William C Carter PhD Dissertation Award in Dependability in 2020. Both of the awards won by Karthik Pattabiraman are presented by the same organization.